A unique LED lighting
Technology keeps advancing, and LED High Bay Light PRIMUS is the proof. Without exaggeration, this lighting fixture is a unique element in our market – A winner in the category of "Energy Efficiency".
We first saw the fixture by the end of 2022. We were curious – We hadn't seen LED lighting with such high energy efficiency on the market before. We sent it to the lab to verify the parameters. The tests confirmed PRIMUS' huge energy efficiency compared to competing LED fixtures.
Highly energy efficient – What does that mean?
Energy efficiency tells us how many lumens per watt the lighting emits.
Energy efficiency = light flux/electric power
In layman's terms – it tells us the energy savings on the fixture. It means "netto power" – with all losses (both optical and electrical) accounted for. To give you an idea = A traditional incandescent bulb has an efficiency of about 10-15 lm/W, a common fluorescent light of about 40-60 lm/W and LED lighting of about 100-170 lm/W.
PRIMUS has an extraordinarily high energy efficiency – up to 197 lm/W (at 4,000 K and colour rendering index (CRI/Ra) > 80). The following chart shows average values for the tested PRIMUS fixture.
Measured values
Light flux
28,575 lm
22,820 lm
16,930 lm
Input
150 W
118 W
86 W
Energy efficiency
190.5 lm/W
193.4 lm/W
196.9 lm/W
Note: Full lab results can be provided on request
Comparison to common lighting solutions
We compared PRIMUS with other – commonly used – lighting solutions: a discharge lamp, an economy-grade LED light and PRIMUS. As you can see, PRIMUS can provide even higher savings than a common LED light.
Discharge lamp
(old-fashioned lighting solution)
Economy-grade LED light
(standard lighting solution)
LED High Bay Light PRIMUS
(new lighting solution)
Input
400 W
200 W
150 W
Annual consumption
(16 hr/day, 260 days/year, 30 EUR/MWh)
562 EUR
250 EUR
187 EUR

Savings
–
56%
67%
–
312 EUR
374 EUR
Other advantages of PRIMUS
Besides the high energy efficiency, PRIMUS offers additional pros:
resistance – suitable for challenging environments (production sites, workshops, storage rooms…)
long operation time – up to 131,000 hours for the L70B50 variant (at 70% of light flux) and 70,000 hours for the L80B50 variant (at 80% of light flux)
extended 5 years warranty
control options (0-10V, HF sensor and PIR, DALI, DALI 2)
different optic systems for optimal beaming angles
most common types on stock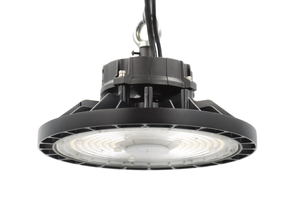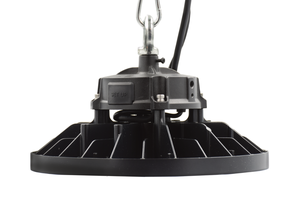 Image: LED High Bay Light PRIMUS – Details
→ Learn more about PRIMUS: Highly efficient LED High Bay Light PRIMUS