LED Tubes are suitable for production sites, shops, warehouses or parking lots. You can save up to 60 % of energy and maintenance costs and their operation time reaches 50,000 hours.
High quatlity components and effective cooling system help to prolong the operation time. Easy installation, shock-resistance and no delays are just extra advantages.
The LED Tube installation is very easy, check out our manual – How to replace a fluorescent tube by a LED Tube.
Special valves are located on each side of the tube, so that you can set the angle according to your needs (+90° to -90°). Therefore, the light flux can be aimed wherever needed.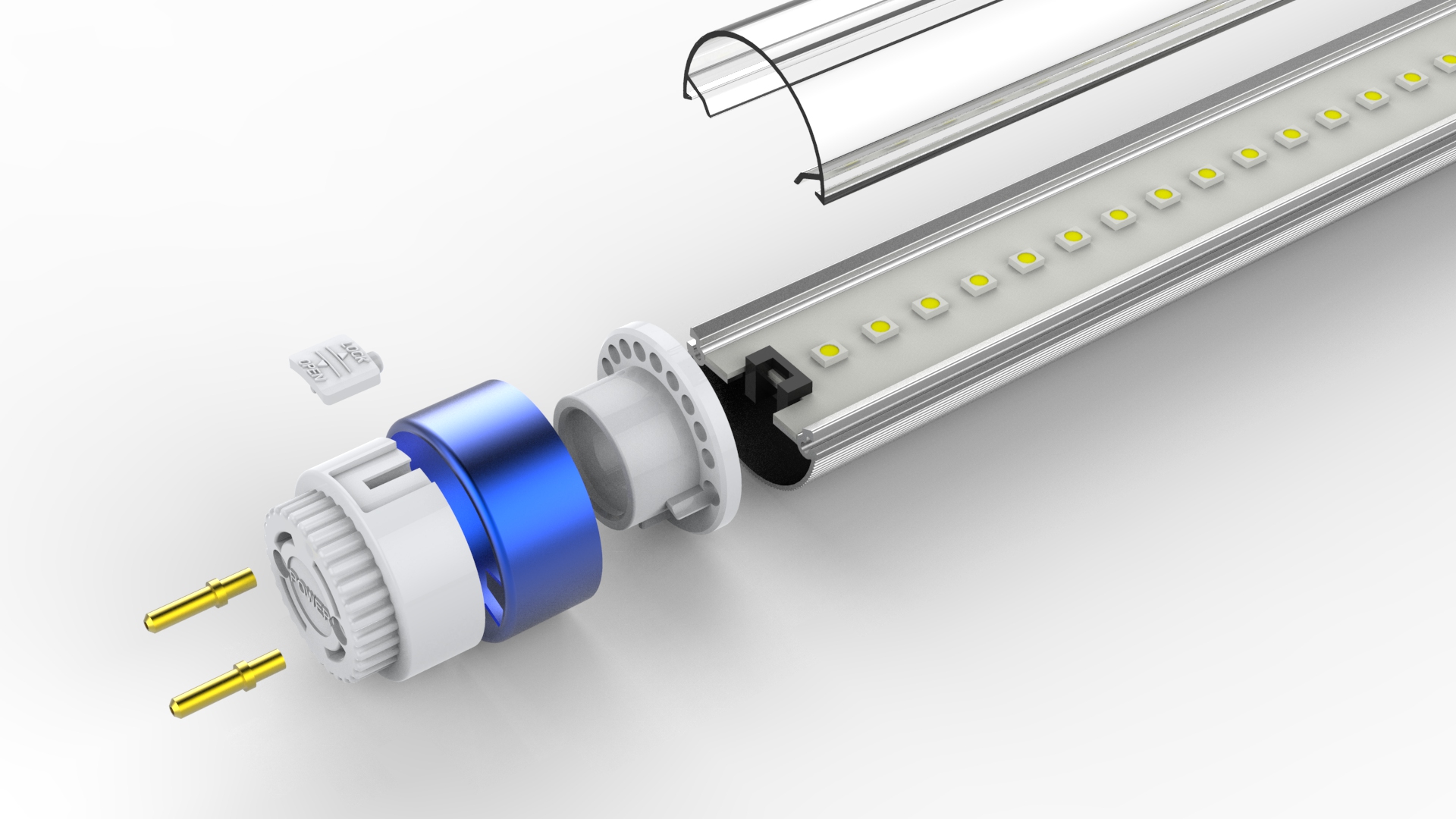 The tube luminous efficacy levels get to 137 lm/W. During the operation time, the light flux decreases negligibly.
The tube major part is occupied by an improved cooling system – the cooler occupies 2/3 of a tube perimeter and helps to lengthen the operation time.
The great light intensity and evenly distributed light are characteristic for the T8 LED Tubes during the entire operation time. The tube luminous efficacy levels get to 125 lm/W (incl. the possible light intensity loss due to diffusor, e.g.).
No driver or starter are implemented in the tube, therefore flickering and radio frequency disturbance (a stroboscopic effect) are eliminated. Tubes do not whirr, they switch on immediately and are environmentally friendly – there are not malicious substances involved in the production process and the long operation time means less waste.
Thanks to the high quality of our LED Tubes, we can provide the 3-5 year warranty.
LED Tubes 90 cm parameters
MODEL
LED Tubes
T8 Y3-90
LED Tubes
T8 Y5-90
Size
Ø26 x 900 mm
Weight
0.22 kg
0.29 kg
Input Voltage
AC: 185 V ~ 265 V
AC: 220 V ~ 240 V
Input
13 W
17 W
Light Flux Temperature
2 700–7 000 K
Shell
clear
milk
clear
milk
Light Flux*
WW
1,365 lm
1,235 lm
2,210 lm
2,040 lm
NW
1,404 lm
1,274 lm
2,295 lm
2,091 lm
CW
1,430 lm
1,300 lm
2,380 lm
2,125 lm
LED Chip No.
90
LED Chip Type
San'an SMD2835
Epistar SMD2835
Power Factor
>0.95
Colour Rendering Index
80 CRI / 90 CRI on request

Operation Time
>50,000 hours
Operation Temperature
-20 °C ~ 40 °C
Warranty
3 years

5years
* Light flux parameter shows the REAL light flux regarding the light intensity loss (not the LED chip light flux intensity, which does not reflect the real light intensity). Light flux intensity depends on the temperature employed (K), higher the temperature, higher the light flux.
3,000 K = warm white (WW)
4,000 K = neutral white (NW)
5,000 K = day light white (DW)
6,000 K = cool white (CW)